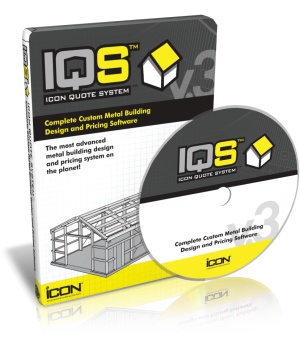 THE TIME HAS COME!

Welcome to IQS – the most advanced metal building design and pricing system on the planet! I would like to personally thank you for your interest in our products and services!
With IQS, the power is in your hands. You are at the command of the world's first and only "real-time" Metal Building Design system, giving you the power to create an almost endless array of pre-engineered buildings in seconds. No other system gives you the flexibility to create structures for Add-On buildings, Lean-To buildings, Open Walled, Non-symmetrical shapes, Single Slopes, Gables, Modular buildings to 150,000+ square feet and an almost endless array of aircraft hangar buildings can be created using IQS. The system is so advanced you can create modular hangar structures with multiple hangar door openings. All of this is available to you in a fully-rendered on-the-fly 3D graphical interface with the power to produce a set of approval drawings, literally in seconds.
If you're thinking that all of this sounds too good to be true, I am not surprised, as not one single company in the pre-engineered building business has accomplished this feat… until now. An enormous effort has been made to provide you with this revolutionary design system. Not only do we have plans for continuous development of IQS, it is our core focus. We are in the midst of building a software system capable of finite element modeling (FEM) whereby the entire structure is modeled for stress and each weak point is analyzed and corrected. To date there is no such system on the market for PEMB structures. ICON is proud to be the technology leader in our industry.
As an IQS user you will have the power of design, but more importantly you will be able to harness powerful business logic built into the system. What this means to you is you will be able to search jobs by customer name, city, zip, phone number or any other customer related data. ICON dealers have a built in CRM (customer resource management) system to keep up with customer relations and sales lead management like no other system on the market. In today's fast paced world you need complete flexibility in your system, and we are bringing it all to you.
Our future plans include a host of enhancements and by late 2008 we should be on track to release a new design add-on to IQS. This plug-in will allow you to combine projects together, like high-low roof step downs, mezzanines, or combining 2 to 10 different buildings together. It will produce Foundation Plans and specs on-the-fly by December of 2008 – bringing a force of value unmatched in our industry.
Sincerely,
Mark Moore
Founder & Chairman
ICON Building Systems